Campus & Community
How Lexi Gause turns every experience at UNI into a growing opportunity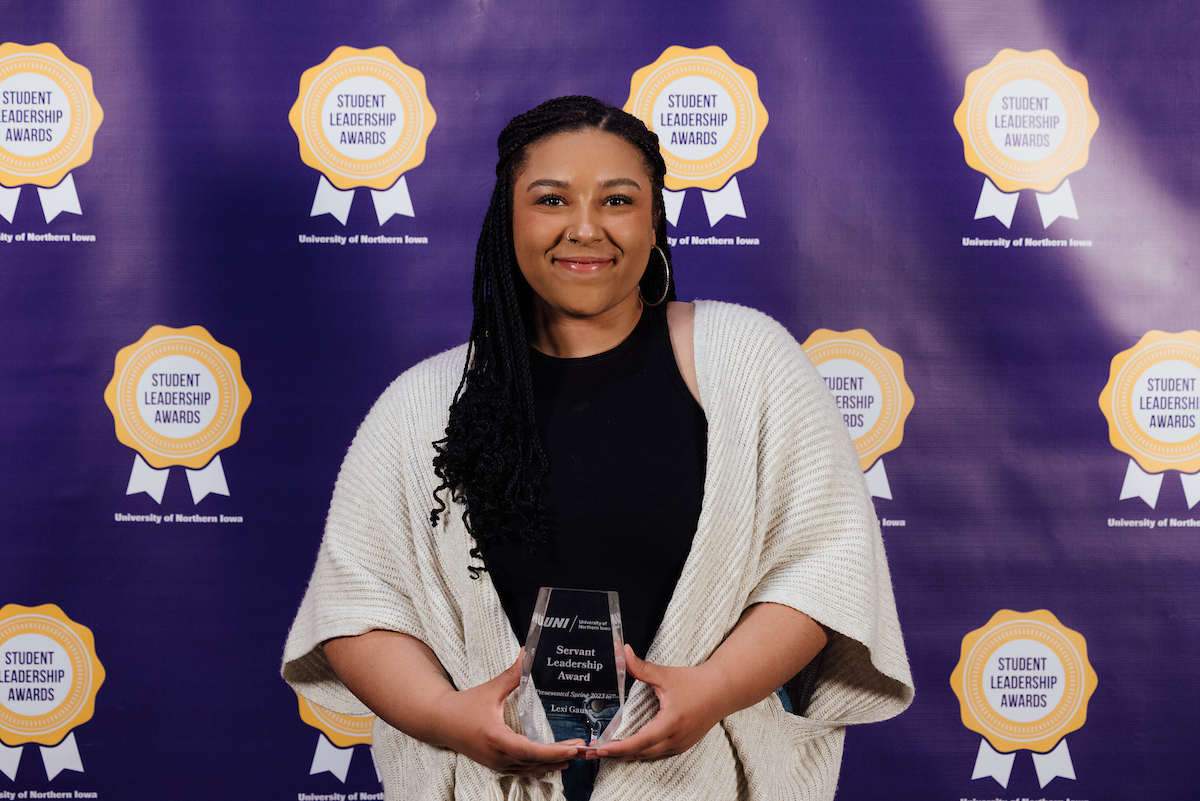 Lexi Gause perfectly exemplifies what a leader should be. The University of Northern Iowa junior, who is a social work major with a minor in mental health and certificate in child welfare, is the president of Black Student Union, vice president of membership and engagement for Panther Ambassadors and a member of the Thrive Mentoring program. She works as a student programmer in the Center for Multicultural Education (CME) and a success coach in The Learning Center and serves on the Textbook Equity Advisory Board. She's passionate about advocating for students of color and helping them succeed.
"I found so many opportunities at UNI that have allowed me to grow in different areas," she said. "I think that's why I'm so involved is because every time I say 'yes' to something — say 'yes' to an organization or job or event or anything of the sort — I grow, and I love growing. I love learning. I love figuring out different strengths that I have and also areas for improvement."
A native of Cedar Rapids, Iowa, Gause said she was actively involved in high school but not to the level she's involved in college. UNI is also where she's hit her stride in taking on leadership roles.
"I've had so many people tell me I have all these skills and what it takes to be a leader," she said. "But without that platform, I didn't really know how to navigate that. UNI really showed me how to navigate that and find positions that allow me to grow professionally and personally. So when I came to UNI, that's when I started really believing I can do this."
As a first-generation college student, choosing to attend a university was not without its challenges. Yet, Gause never doubted her ability to overcome those obstacles.
"I always knew college was going to be for me," she said. "I didn't have a blueprint, which was difficult, but I knew I would succeed in college because I know my strengths, and I wanted to change my generation."
In high school, Gause took about 30 credits of college courses, focused on getting good grades and researched college as much as she could to ensure that when the time came, she would be ready.
While she always knew continuing education was for her, Gause had a bit of difficulty finding her calling at college. She changed her major four times before settling on social work.
"I always knew I wanted to be a leader in my community and be a mentor for others, but I just didn't know which path that was," said Gause. "When I found social work, it just all clicked for me. It all lined up perfectly. My passions, my determination, my strengths all fit with the mission and core values of social work. Ever since then, I have just flourished within that program."
Gause has also flourished in the Black Student Union, also known as BSU, an organization she was part of for only a year before becoming president, something that rarely happens, according to Gause.
Getting involved with BSU was an easy choice. She first connected with the group during a student organization fair she attended during Jump Start, which is an extended orientation program for students from underrepresented racial and ethnic backgrounds as well as students who have participated in AVID and TRIO programs.
"I was really determined to stay connected with my culture and my ties, especially with UNI being a predominantly white institution," she said.
Gause instantly found a sense of belonging at BSU. She considers fellow members to be not just a community but a family. She describes being its president as her proudest accomplishment from her time at UNI so far.
Gause has helped others have a fulfilling experience at UNI by mentoring first-year and transfer students through the Thrive Mentoring Program in the CME. Gause took advantage of the program when she first came to UNI and became a mentee. Now, she passes on what she's learned to new UNI students.
"Having a mentor is so, so powerful," said Gause. "Even mentors need mentors. It's really cool to see the impact it had on me because I'm still using some of the advice that my mentor gave me with my mentees. So it's like this ongoing chain effect that really doesn't end, and it's a continuous cycle of helping other students."
As a member of Panther Ambassadors, formerly known as Ethnic Student Promoters, Gause also helps prospective students by giving tours and serving on panels. Prospective students and their families often ask why Gause chose UNI. She's given plenty of thought tonot only to why she chose UNI but also why she chooses to stay.
"We thrive off of community here, and we really support one another," she said. "I think that's something you may not find in another university. I have been able to take all the opportunities handed to me and grow and learn as a person, as a leader and as a student. That's through the opportunities that UNI creates, and it's amazing because it's not just one office or department. It's embedded in all the departments on campus and all the offices — that desire to see others succeed."
Gause has been recognized for her efforts to make campus a better place in numerous ways. Most recently, she received the Young Woman of Tomorrow award at the YWCA Black Hawk County's Women of Persimmon awards banquet. She received a 2023 Servant Leadership Award, one of the Student Leadership Awards given at UNI. She was also named one of Campus Compact's 154 Newman Civic Fellows. Gause is the only student from an Iowa Regent university in the 2023-2024 cohort, which includes students from 38 states, Washington, D.C. and Mexico. 
"It shows that I'm making a difference on this campus and others are seeing it, and that's really an honor," said Gause.
After graduating from UNI, Gause plans to obtain her master's in social work with an emphasis in clinical social work to become a medical social worker. She's chosen this path because she is passionate about advocating for equity in health care for people of color and especially women of color.
"I'm so thankful for UNI showing me that I can go so far," she said. "Everyone here has really helped me find that within myself, and that's why I chose to go to grad school because I've really flourished here. I've grown. And I think I can grow even more in grad school."