Campus & Community
UNI leaders recognized at 2023 Women of Persimmon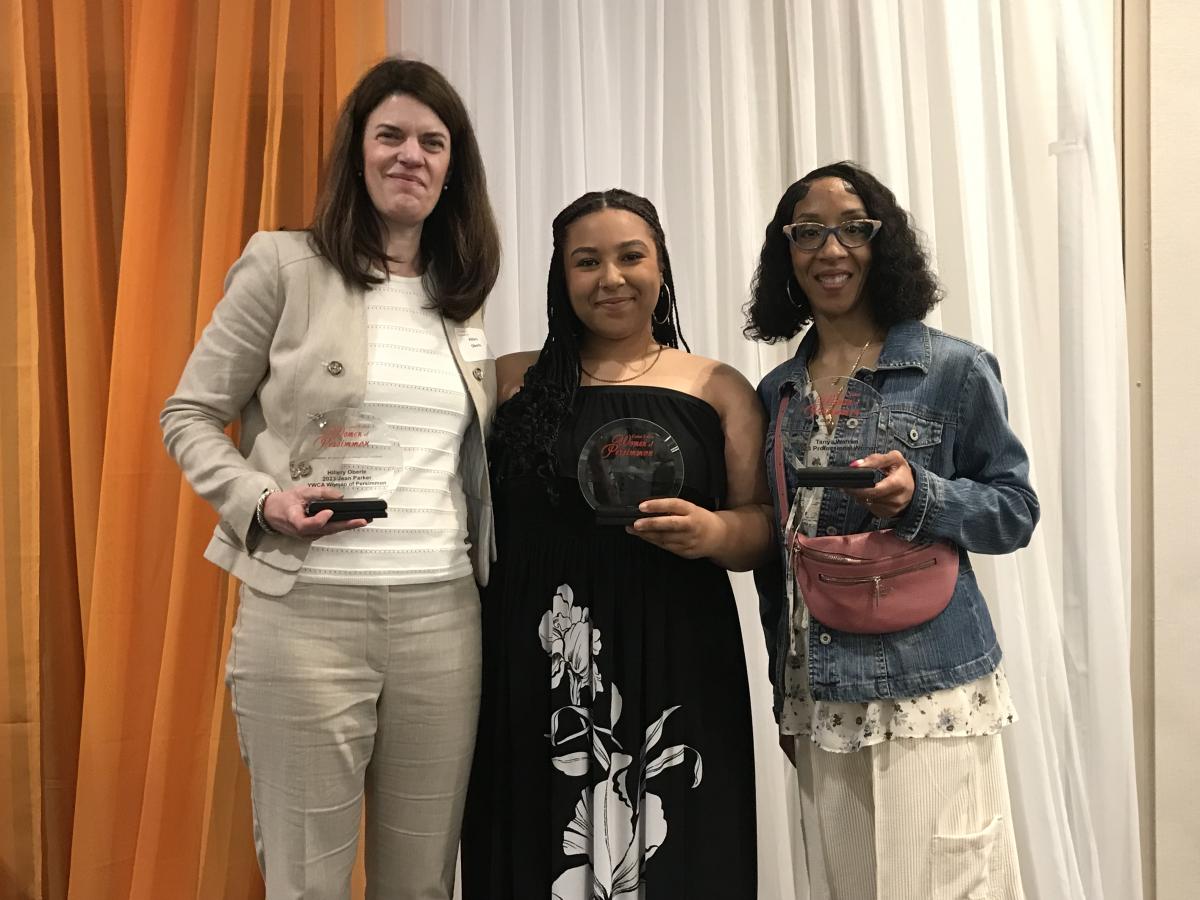 Three women making a difference at the University of Northern Iowa were recognized this week by the YWCA Black Hawk County's Women of Persimmon awards banquet in Cedar Falls. Women of Persimmon awards recognize women and organizations who work to create opportunities for women and girls and improve the lives of all who live in the Cedar Valley. 
Hillery Oberle from UNI Advancement is the Jean Parker YWCA Woman of Persimmon. 
Not only does Oberle spend each day ensuring that UNI and its students, faculty and staff have the resources to succeed, she also volunteers her time, talents and treasure to organizations in the Cedar Valley to make this a stronger community. The Foundation is better prepared to serve UNI because of Oberle's thoughtful leadership.
Oberle is a past president of the YWCA board of directors and currently serves on its investment committee. She is a current board member of Exceptional Persons, Inc. and former member of the Cedar Falls Planning and Zoning Commission.
UNI head women's basketball coach Tanya Warren received the YWCA's Professional Woman of the Year award. Warren, a Des Moines, Iowa native and former standout basketball player at Creighton University, has been the head women's basketball coach at UNI since 2007  She just completed her 16th season as the helm of UNI's women's basketball program. 
"All of my life I have been blessed to be surrounded by incredible individuals who have had a positive impact in my life, and I feel it is my responsibility to pay it forward," said Coach Warren. "I know I will always be judged on our ability to win basketball games, but to be honored for making a positive impact in young females lives is simply priceless, and is the most rewarding part of my job."
UNI student Lexi Gause received the Young Woman of Tomorrow award, which is given to a woman between the ages of 18-25 who have demonstrated exceptional leadership, scholastic ability, volunteer service and/or special achievements. Gause was also recently named part of Campus Compact's 2022-2023 cohort of Newman Civic Fellows and won a Servant Leadership Award. A first generation college student, Gause is majoring in social work and plans on becoming a medical social worker after earning her master's degree. She has been active on campus including as president of Black Student Union and vice president of membership and engagement for Panther Ambassadors.