Campus & Community
UNI Ranked No. 2 regional public university in the Midwest by U.S. News & World Report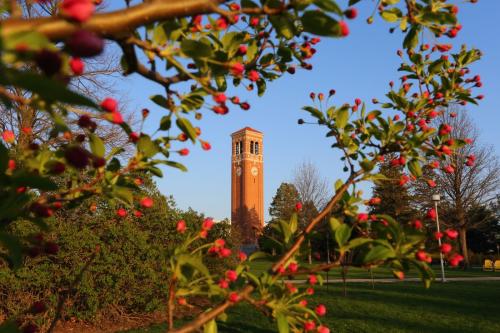 Confirming its reputation as one of the top four-year institutions in the Midwest providing affordable, easily accessible, high-quality education, the University of Northern Iowa was named the second-best regional public university in the region — a ranking it's consistently held for roughly 20 years — in the recently released 2022-2023 Best Colleges report by U.S. News & World Report.
"We are pleased that U.S. News & World Report has once again ranked the University of Northern Iowa as the No. 2 regional public university in the Midwest," said UNI Director of University Relations Pete Moris. "The commitment of our faculty and staff to ensuring student success and providing a personal touch has consistently differentiated UNI from other institutions."
"We're proud of our increasing graduation rates, as well as the uptick in transfer students who have chosen UNI to complete their degrees," Moris added. "UNI remains committed to providing our students a world-class education that is accessible and affordable for Iowans and learners across the nation."
UNI also saw notable gains in other categories scored in the report including:
Climbing from ninth to fifth in the 2022-23 Best Colleges for Veterans among Regional Universities (Midwest) list;
Ranking ninth in the 2022-23 Most Innovative Among Regional Universities (Midwest) category;
And, maintaining its place as one of the most affordable universities in the region, ranking 55th in the 2022-23 Best Value Schools (Regional Universities - Midwest) list, another jump from last year.
In its 38th year, the U.S. News and World Report evaluated 1,500 colleges and universities on up to 17 measures of academic quality, placing emphasis on a number of outcome measures including: graduation rates, retention rates, graduate indebtedness and social mobility.
Other notable UNI rankings and designations by U.S. News and other organizations: 
The good news comes on the heels of several significant successes UNI has celebrated over the past year including soaring graduation rates and the launches of several new programs and initiatives.
UNI recently announced its graduation rates had reached an all-time high for the second straight year, increasing by five percent over last year and ranking nearly 20 percentage points above similar universities. One in 12 UNI students graduate in only three years. UNI also celebrated one of its most diverse incoming classes this fall with a 24 percent increase in students from ethnic and racial minority groups, a testament to the university's efforts to increase accessibility and affordability through a variety of programs and initiatives.
Launched this past spring, UNI Foundational Inquiry (UNIFI) is redefining the value of a general education program with its new 37-credit-hours program that makes completing general education requirements more efficient and flexible, thus creating a path to timely graduation. The program is designed to help students stay on track with their major while giving them a future-ready foundation of employable skills, critical thinking abilities and well-rounded credentials.
In an effort to increase accessibility, Iowans with associate degrees from any of the state's 15 community colleges will have easier access to a four-year degree thanks to UNI@IACC (Iowa Community Colleges), a new online program aimed at removing higher education barriers for adult and place-bound learners.
Launched this fall, the UNI@IACC initiative offers increased accessibility to bachelor's degrees in high-demand areas for Iowa's workforce, including: managing business and organizations, management: business administration, criminal justice, elementary education, human services and technology management.
UNI@IACC will build on the university's already impressive record with preparing transfer students for success in the workforce as highlighted by the fact that nine out of 10 UNI transfer students stay to live and work in Iowa upon graduation.
Already recognized as  the No.1 supplier of future educators in Iowa, UNI also introduced its Purple Pathways for Paraeducators Program this fall — a flexible, online program that provides an easily accessible option for placebound paraeducators currently working in schools across the state. Sixty-eight paraeducators started in the inaugural cohort of this program.
About U.S. World and News:
U.S. News & World Report is the global leader in quality rankings that empower consumers, business leaders and policy officials to make better, more informed decisions about important issues affecting their lives and communities. A multifaceted digital media company with Education, Health, Money, Travel, Cars, Real Estate, News and 360 Reviews platforms, U.S. News provides rankings, independent reporting, data journalism, consumer advice and U.S. News Live events. More than 40 million people visit USNews.com each month for research and guidance. Founded in 1933, U.S. News is headquartered in Washington, D.C.
Contact:
Pete Moris, director, University Relations, pete.moris@uni.edu, 319-273-2761.